That could easily have been a headline ripped from the pages in major newspapers back in August of 1994 when rates were only 6%–yet by year's end the prediction nearly came true as a mere four months later they would rise to almost 10%!
Are you old enough to remember what normal mortgage interest rates were like?
According to Bankrate.com, mortgage interest rates have been attractive for such a long stretch of time that many homebuyers and homeowners might not realize that rates haven't always been this low. Mortgage interest rates in the 4-percent range were unheard of until 2010, and rates in the 5-percent range were unknown prior to 2003, according to Bankrate.com surveys through the years and a chart of monthly average mortgage interest rates tracked by the Federal Reserve since 1971.
Prior to 2003, higher mortgage interest rates were the norm. In the early 1970s, rates hovered in the 7-percent range and spiked up above 9 percent in late 1975, late 1976 and most of 1978. At the end of the decade and throughout the 1980s, mortgage interest rates rarely dipped lower than 10 percent.
In the early 1980s, mortgage interest rates brushed the stratospheric highs of 18 percent and even 19 percent. Imagine trying to get a home loan with an interest rate of 18 percent. At that rate, the mortgage interest deduction would be a very lucrative income tax perk, but the monthly payment on a loan would be far more painful than a typicalmortgage payment today.
During the 1990s, mortgage interest rates ranged from around 7 percent to roughly 9 percent for many years. It was only in 2000 that rates began to fall to earth. They held at less than 9 percent in 2000, less than 8 percent in 2001 and less than 7 percent in 2003.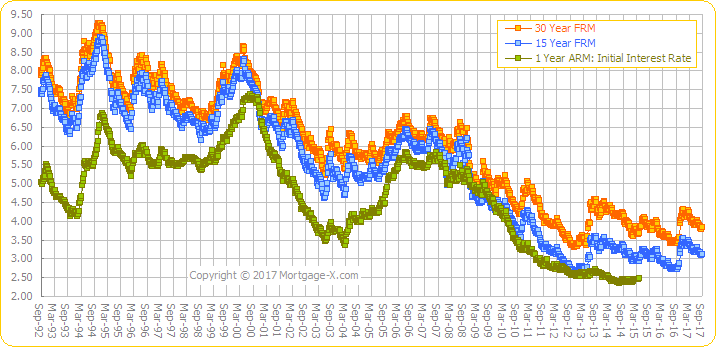 Reproduced with the permission of Mortgage-X.com
If you've been putting off refinancing your home or buying a new one, don't get lulled into inaction with the thought that these new low rates are here to stay.
The information
contained in this article is educational and intended for informational
purposes only. It does not constitute real estate, tax or legal advice, nor
does it substitute for advice specific to your situation. Always consult an
appropriate professional familiar with your scenario.
Drew & Christine
Morgan did not necessarily participate in these sales.
DRE License Numbers
01124318 & 01174047
Drew & Christine
Morgan, REALTORS | Notary Public