Thank you to all of our clients in 2012 who helped make this
past year one of our best on record!
Getting the numbers out for December is always the hardest of
the year. With the New Year upon us, the beginning of January is filled with
reflection into the past year's activity. We analyze where our business came
from and make adjustments into our marketing for the upcoming year. We also decide
which new technologies to implement and how better to serve our clients needs.
Of course looking at the previous year, it's always interesting
to see how the market has changed and we invariably stumble across an interesting
statistics here and there which are not only representative of what transpired,
but indicative of what may be to come. We hope you enjoy our analysis.
December of 2012 saw more of the same year over year improvements
in our local housing sector. Comparing December to November one might think the
market is taking a dive, but seasonally adjusting the numbers by comparing them
to last December a truer picture develops.
SALES
We're starting the post off with SALES instead of MEDIAN
PRICE. Why? Because this year has all been about the increase in sales and low
inventory. Many people including real estate agents are complaining about the
lack of inventory and how few listings there are, but in reality the number of
new listings have been up all year. In fact most of the agents we've spoken to
are under the same miss-impression that new listings are down–they're not! It's
just that sales have increased so much that the lack of inventory makes it
appear as though there are no homes to sell–there are–they just don't last
long.
The sale of existing single family residences in Belmont for
December 2012 were up 36% over last year. Belmont had 19 homes close escrow in
December of 2012 as compared to only 14 in December of last year.
This is a graph for December Belmont home sales since 1998.
Remember that our market peaked in March of 2006 before beginning the largest
correction in recent history for the U.S. housing market.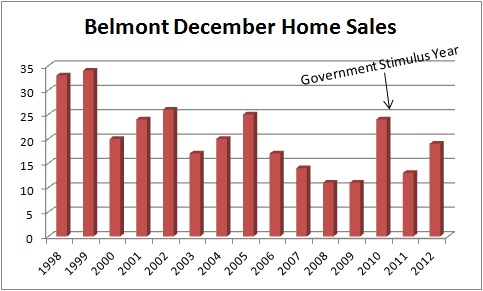 NEW LISTINGS
We've added a new category for tracking new listings each
month. The lack of homes available for sale has impacted prices by creating
bidding wars that drive home values up rapidly. Watch for our monthly updated
chart on our web page as we implement this new metric in 2013.
There were three times as many new listings in December of
2012 as last year, while inventory levels fell to almost 1/3rd the
level in 2011. These diametric conditions lead to competition for homes not
seen in years.
DAYS ON MARKET
[DOM]
Homes sat on the market a lot longer than a year ago "statistically" 54
days on the market in 2012 as compared to only 35 last year. One ponders why
when homes are selling so fast with multiple offers would homes be languishing
on the market? The answer lies in the four distressed sales in 2012 which accounted
for on average 95 days on the market each skewing the small sample.
PERCENT
RECEIVED
The average percent that a seller received of their asking price
has been slowly creeping up from the 100%+ highs in years past. Belmont hit a
low of 96.1% of the asking price in 2009 and has been climbing up ever since.
This December seller's received 98.83% of their asking price.
When was the high? We hit 103.1% in 2000 right before the
DOT COM crash.
MEDIAN PRICE
The median home price in Belmont for December 2012 was
$939,000 up 6% from last December's $885,000. This is in-step with the
preliminary numbers we found which are that year-over-year Belmont homes values
rose approximate 7%. Of coursed some neighborhoods went up more than others
If you're a seller who has been waiting for the market to
turn around now's your opportunity to get top dollar for your home–seriously the
best it's been since before 2006.
Watch out for our next blog post on Belmont when we take a Look Back at
2012–the year the housing market began its recovery.
The information contained in this article is educational and intended for informational purposes only. It does not constitute real estate, tax or legal advice, nor does it substitute for advice specific to your situation. Always consult an appropriate professional familiar with your scenario.
Drew & Christine Morgan did not necessarily participate in these sales.
DRE License Numbers 01124318 & 01174047
Drew & Christine Morgan, REALTORS | Notary Public (650) 508-1441
All data was retrieved from MLS Listings, Inc. the Multiple Listing Service for San Mateo County.